Freight
Chathams Pacific aircraft servicing the Ha'apai and Vava'u ports out of Tongatapu are well suited to carrying freight.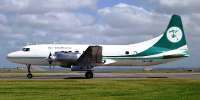 In fact, the team have huge experience in freight management having built Air Chathams on the carriage of perishable and live cargo over these last few decades.  This experience includes product destined for the overseas market and time critical produce delivery within New Zealand, 
The Convair, Metroliner and also DC3 are excellent dual passenger and cargo aircraft. 
Are you travelling with excess or unusual baggage?  You may find the frequently asked questions of value.
Are you ready to book freight or would you like to discuss your specific requirements ?  Please complete the form below and we will be in touch.
 Freight Inquiry